Reentry: The Journey Back
Hearing a heavy door close behind them is often described as the ultimate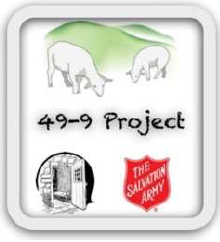 moment of fear and loneliness for someone entering the prison system; but facing the world from the outside of that door after release can be every bit as daunting. The specters of fractured and strained relationships, homelessness, unemployment, relapse and recidivism are but a few of the problems that are lurking for inmates attempting reentry to society.  The Salvation Army Oberlin Service Unit, through the recently developed 49-9 Project, seeks to reach out to persons recently released from correctional and treatment facilities and assist in addressing these and other needs with a spirit of compassion and nurturing as put forth in Isaiah 49:9. We are called to remember the lost, the lonely, and the forgotten. As a community, are we doing enough to help with reentry.
Join us at Lorain County Community College for a luncheon buffet to hear speaker Mark Fahringer of the Salvation Army talk on their 49-9 Project and its effort to help inmates with "The Journey Back".
Reservations required.  For more information, click here.